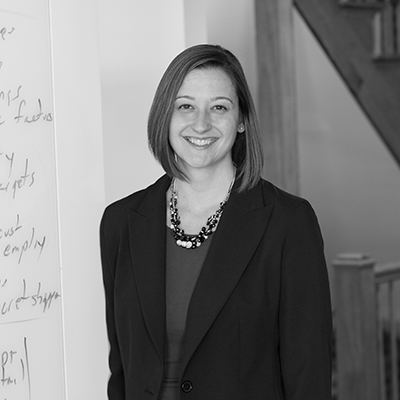 Joanna Colosimo, M.A.
Vice President of Workforce Equity & Compliance Strategy, Principal Consultant
Joanna Colosimo, M.A., is the Vice President of Workforce Equity and Compliance Strategy at DCI Consulting, where she leads a division of I/O Psychologists, advanced HR practitioners, and analysts who consult with organizations on OFCCP compliance requirements, pay equity solutions, audit strategies, and diversity, equity and inclusion.
Joanna has extensive experience working with Fortune 1000 clients to conduct and interpret complex adverse impact, utilization, diversity and systemic pay equity analytics in the equal employment opportunity context. Often, these analyses are conducted in response to formal high-stakes investigations initiated by Federal EEO enforcement agencies (e.g., OFCCP and EEOC). Joanna has vast experience in assisting clients with strategically defining their diversity, compliance, and pay equity programs, including communicating findings to executives and board members. This includes strategies around mitigating risk across industries and institutions of higher education.
Prior to joining DCI, Joanna worked on the creation and implementation of compliance and workforce analytics programs in the private sector. Her private sector background is primarily focused on the management and execution of Affirmative Action Plans, OFCCP audit strategy, Executive compensation, and Diversity & Inclusion programming. She also has project management experience for the validation of corporate-wide selection testing, quality of hire initiatives, and the assessment of employment measures in the context of a barrier analysis.
Finally, Joanna's familiarity with implementation and analysis of organizational development programs such as job satisfaction, quality of work life programming, and organizational justice adds a holistic and comprehensive approach to her consulting practices. Working in the field of industrial and organizational psychology since 2006, Joanna presents at national conferences on a variety of pay equity, diversity, and OFCCP topics. She also writes frequently for publications such as Law360 and in partnership with the Institute for Workplace Equality.
Joanna earned an M.A. degree in Industrial and Organizational Psychology from Radford University in Radford, VA, and a Bachelor's of Business Administration and Psychology from Roanoke College in Salem, VA. She is a member of several professional groups including the Society for Human Resource Management (SHRM), Society for Industrial/Organizational Psychology (SIOP), and the Washington DC Metro ILG (WMILG). She holds a SHRM-SCP certification and serves on the Board of WMILG as Past President.